Step-by-Step Registration Process – how to create a skrill account.
Skrill is an electronic money system. The business was founded in 2001. It allows people to make simple, secure, and quick money transfers and payments through the Internet — from international money transfers to shopping, gaming, trading, and betting.
Well, it's nothing short of the truth that Skrill is a great payment system you can use in place of the widely acclaimed PayPal. We also got personal reasons as to why we use and recommend Skrill. See why we prefer Skrill to other money transfer services
Interestingly, Skrill is available to about 200 countries (including Kenya) and its online wallet is generously compatible with over 40 different currencies of the world.
Whether you're an e-commerce agent or a member of an organization that deals with foreign clients, you can expect to make a great deal of success using Skrill for international transactions.
There are two types of Skrill accounts you can create.
Types of Skrill Accounts you can open.
– Personal Skrill Account
Just as the name implies, this type of Skrill Account is opened by individuals that want to keep it simple.
With the Personal Account, you can;
Send and receive money around the World.
Shop online
Buy Cryptocurrency
And other basic functions.
– Business Skrill Account
Unlike the Personal Skrill Account, the Business Account is mostly used by Companies to perform Online Transactions.
In addition to that, you can also carry out large transactions with the Business Account, compared to the Personal Account.
And to apply for this type of Skrill Account, you would need the following;
A scanned copy of a valid means of Identification.
A copy of your Utility Bill, for the last three months.
I will take you through quick steps you can follow to create your skrill account:
how to create a skrill account (step by step guide)
You'll find yourself on the account sign-up webpage at Skrill.
Step 2. Start registration
Enter your real names, your preferred currency, your country of residence, a valid email address – one linked to the bank account you will be using.
And then choose a password for yourself (remember, that you won't be able to change this in the future except for the password).
Step 3: Tell skrill your motive
choose what you will be doing with your skrill account. You can edit this later. For the sake of this explainer, I will choose to use skrill to pay online
Step 3. Trust Skrill with your personal details
Now you will be required to fill yet another form to complete your registration. The form will resemble the screenshot below. It requires your personal details.
Please pay attention to your details including your address because you will need to verify them. Fill all required fields with real details.
Step 4. Account credentials
At this point, you'll have to enter your email address, date of birth and also invent the password. Pay attention to the email address you use.
It will be used as your login to sign in to the Skrill website and carry out money transactions. Therefore use your main email address. I recommend the one linked to your bank and electronic cards.
Your birth date information will be necessary for making payments – this will be the confirmation of all your transactions.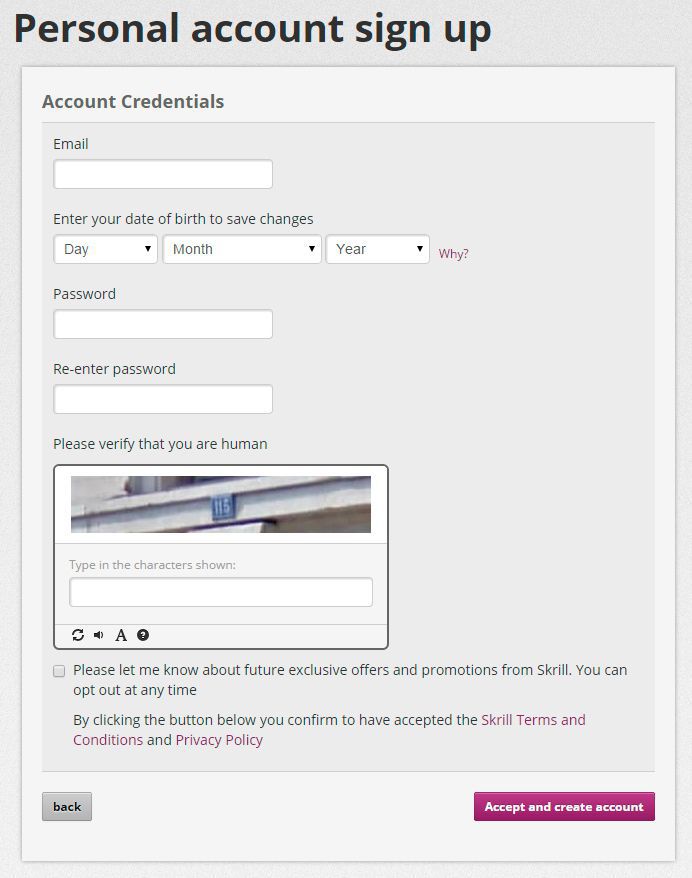 Step 5. Email address confirmation
You've successfully created an account at Skrill and it's ready for use. All you have to do is to confirm the email address you've mentioned previously.

Step 6: Enjoy using skrill
Now you can enjoy using the Skrill money transfer system. However, to enjoy the full features of Skrill, you will need to verify your identity and address. have a good time!
Important parts of our blog
If you're just starting out, then we highly recommend that you check out the following areas of our site:
We hope that you found our guide on how to create a skrill account beneficial to you. Please let us know in the comment section if there is something we left out that you really need to know even as you get started using skrill.
If you liked this article, then please subscribe to our YouTube Channel for money-making videos. You can also find us on Twitter and Facebook. If you prefer receiving our updates through emails, then click here to join the Blazona email list.