The Kenya Medical Supplies Authority (KEMSA) has advertised a tender for medical supplies that also includes vaccines.
Among the listed supplies pharmaceuticals, injectable, vaccines, oral liquids, ear and eye preparation medicine, surgical dressings, surgical gloves, administration sets, syringes, diapers, gumboots, disposable bags, and many other materials that you can find in the posted advert as given below.
Below is the poster with the tender notice advert
but just before you scroll to the poster, ensure you do the following things first if you have never done them before:-
Click on the bell icon on the bottom right of this page and confirm the action to receive new online job alerts the very first person always.
Join our telegram channel by clicking the blue-button above this page.
If you find this article to be of great value, show love by sharing it on your social media accounts. To do this, click on any of the floating social media icons on this page.
Finally, click here to join our email list and remember to ask a friend to also join our list.
Great, below is the advert posted.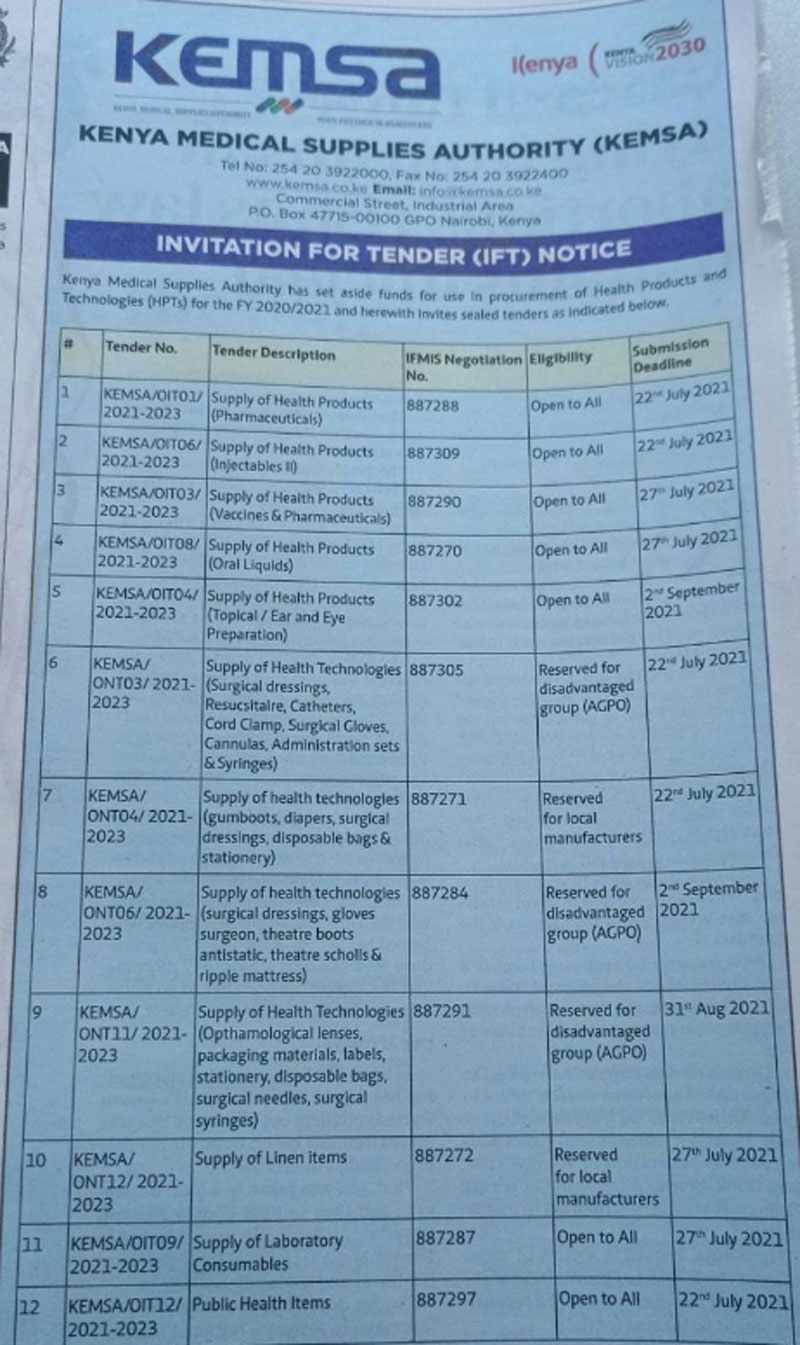 Bidders have been asked to download the tender documents from the KEMSA website, or the IFMIS tender portal www.supplier.treasury.go.ke or tenders.go.ke.
Important parts of our site
If you're just starting out, then we highly recommend that you check out the following areas of our site:
Blazona Meditation -The Instant "Money Meditation" top marketers use to draw wealth to themselves. (top secrets revealed).
Blazona Blog – The central place for all our recommended business ideas, money-making methods, and legit online jobs.
Blazona Videos – New to online business? Watch these Assorted mentorship guides to keep you rolling.
Blazona Forex trading 101 – Everything you need to know about successful forex trading.
Blazona Deals – Exclusive discounts on products and services you may need to simplify your working.
We hope that you found this job alert helpful.
If you liked this article, then please subscribe to our YouTube Channel for more smart methods to make money. You can also find us on Twitter and Facebook. If you prefer receiving our updates through emails, then click here to join the Blazona email list.
Also, the fastest way to receive alerts on the latest online jobs and smart money-making opportunities from Blazona daily is by either clicking on the bell icon at the bottom right of this page and confirm the action or Joining our telegram channel @Blazona
Note: we send you alerts for FREE and you still will make money from the opportunities we alert you on! DON'T FORGET TO SHARE IF YOU FOUND THIS post HELPFUL! (Just click on any of the floating social media icons on this page to share)